The Ultimate Productivity Solution:
ClickUp
.
In today's fast-paced business landscape, maximizing productivity and efficiency is essential for success. That's why Admazes, in partnership with ClickUp, the leading all-in-one productivity platform, is here to empower and drive your team towards success. With ClickUp's robust suite of tools and its intuitive interface, we are committed to helping you streamline your workflows, drive collaboration seamlessly, and unlock unparalleled efficiency.
Rredefine the way you work
Task Management Made Easy
Efficientize your workflows, assign tasks, set priorities, and track progress effortlessly. ClickUp's flexible task management system keeps everyone aligned and productive.
Collaborative Documentation
Create, edit, and collaborate on documents and whiteboards in real-time. From brainstorming to knowledge sharing, ClickUp provides a centralized space for seamless collaboration.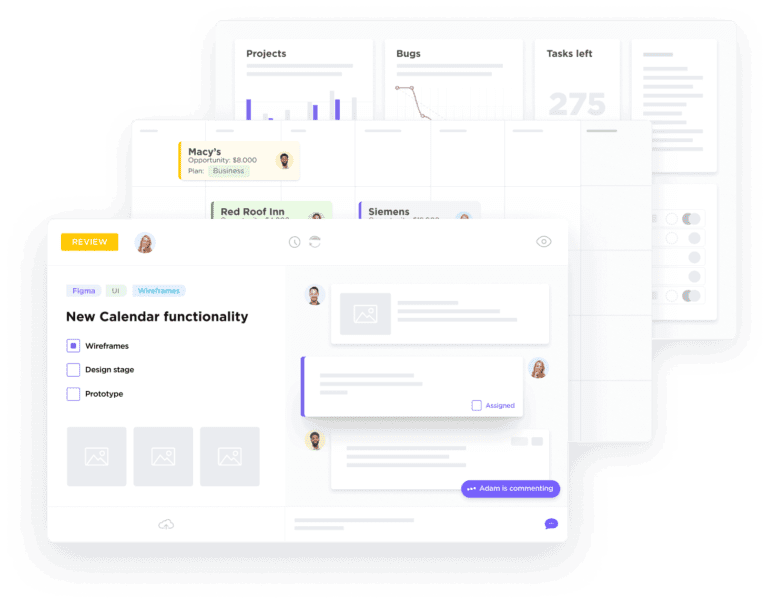 Visualize your projects and track progress with customizable dashboards. Gain insights, monitor key metrics, and stay informed with personalized widgets tailored to your needs.
With ClickUp, brands and marketers can:
Simplify project management and enhance team collaboration
Improve productivity and efficiency across all departments
Centralize documentation and knowledge sharing
Monitor project progress and track key metrics in real-time
Drive better decision-making and achieve business goals

As a trusted partner of ClickUp, Admazes is dedicated to empowering businesses with ClickUp's innovative productivity solutions, driving growth, and enabling seamless collaboration.
ClickUp is the ultimate all-in-one productivity platform, revitalizing the way teams work. With powerful features such as task management, collaborative documentation, customizable dashboards, and more, ClickUp empowers businesses to streamline workflows, enhance collaboration, and achieve unprecedented productivity.
Get started and boost your team's productivity today